- Valtellinese recipes -
Valtellina is an area rich in flavour and tradition. Here are some of the best recipes for all food lovers.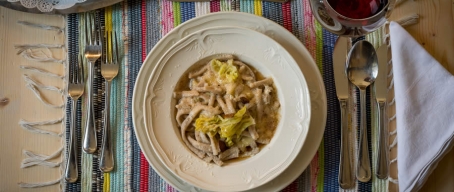 Pizzoccheri of the Accademy of Pizzocchero
The main dish of Valtellinese cuisine which for the last few years has been protected and promoted by the Teglio Pizzoccheri Accademy, which has standardised the recipe and promoted its image in Italy and throughout the world.
Read More
Sciatt
Sciatt (pronounced with a 'sh' sound), in the Valtellinese dialect, literally means toad. They are crispy round fritters made from buckwheat flour with melted cheese in the centre.
Read More