- Teglio and the Valtellina -
Teglio, in the heart of the Valtellina, positioned on a wide, sunny mountain terrace at 900m above sea level was historically the most important village in the valley which bears its name.
The town is not an anonymous mountain settlement, but has its own character, linked to its past which is easily visible in its narrow streets and neighbourhoods.
Thanks to its mild, dry climate, its tranquillity, natural beauty and the uncontaminated nature of its forests and meadows, the accounts of its lively past, the ski slopes of Prato Valentino and the sport fishing lake at Somasassa, Teglio is the ideal place for a holiday for all ages and in all seasons.
Click here to download the map and further information on what to do in the area.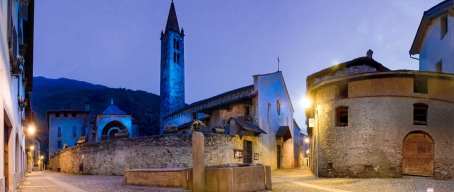 The Valtellina
The Valtellina, the valley of the river Adda that together with the Valchiavenna makes up the province of Sondrio, stretches from Pian di Spagna (188m) to the Valle di Fraele, on the border of the Livigno area, reaching a maximum altitude of 4049m at the Pizzo Bernina.
Read More
The Bernina Express
This is how the Ferrovia Retica (Rhaetian railway) advertised the journey from Tirano, a small town in the centre of the Valtellina, at 429m above sea level, to St. Moritz, the famous resort in the heart of the Upper Engadine at 1770m.
Read More