- Our cuisine -
Our focus is obviously on traditional Valtellinese cuisine (we are after all in the birthplace of Pizzoccheri) and the excellent local wines.

Valtellinese cuisine has been recognised with important prizesand has been presented at numerous events
both in Italy and abroad: from Montecitorio (the seat of the Italian Chamber of Deputies), the European Parliament in Brussels, and the Council of Europe in Strasbourg, to the Vatican Museums in Rome, and Paris.
Antonello our head chef and Fabrizio our Maître d'hôtel, together with the rest of our staff,
know how to delight and advise you with the professionalism that comes with their many years of experience.
The Restaurant
The restaurant offers the elegant 'Sala del Novecento', the spacious and light 'Salone degli Archi', the Tavernetta 'l'antico camino' and the 'La Terrazza' restaurant, also used for ceremonies and banquets, where guests can taste some of the most famous Valtellinese specialties alongside Italian dishes, and which seat up to 300 people.
Read More
Our specialities
Valtellinese dishes, though they may look a little rustic, hide delicate flavours, and when accompanied by excellent local wines like, Valgella, Inferno, Sassella, Grumello and the famous Sforzato (made from dried grapes), can satisfy even the most sophisticated palates.
Read More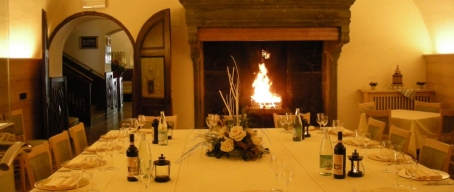 The "Tavernetta l'Antico Camino"
The 'Enter the Valtellina' corner is located in the tavernetta with a display of numerous local products.
Read More
Cookery courses
On request we organise a number of courses based on traditional Valtellinese cuisine.
Learn to make pizzoccheri, sciatt, polenta and more…
Read More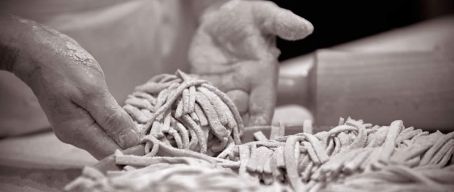 L'Accademia del Pizzocchero di Teglio
On 2nd August 2002 the Teglio Pizzoccheri Academy was formed, with the aim of protecting and promoting the famous local dish along with all the traditional foods from around the Sondrio Province.
Read More